Vauxhall Centenary - thanks for the memories and see you in 25 years!
We were thrilled to hold the Vauxhall School Centenary celebrations on Saturday 7th November and to see so many former students, staff and current families come together to celebrate the milestone. It was a wonderful day, the weather played its part thankfully, and we were able to enjoy all the outdoor activities and performances. Special thanks goes to the Royal New Zealand Navy Pipe Band for their performance and all the Vauxhall students who made everyone smile with their folk dancing,marching and other performances.
Photographs
We are lucky to have Michael Krzanich, a wonderful photographer, in our current school community. Michael captured some great moments of the day and you can view them for a limited time (until 24 Nov 2020) here. Please respect the photographer's copyright and refrain from downloading, copying or sharing these images.
For those who ordered and paid for decade photos on the day - these will be posted to you. If you want to order more photos or did not receive an order card on the day please contact Photolife direct on 0800 501040.
Merchandise
We have a few remaining items of merchandise for sale - orders can be placed for the bucket hats, cotton caps and trucker caps plus tote bag, official centenary book and calendar. Follow the link here. Orders will be posted to you - noting there is a flat rate of $8 for post and handling. If you are local you can call into the school office and make your purchase between 9am-3pm each week day. Orders close 10th December 2020. Get them before they're gone forever!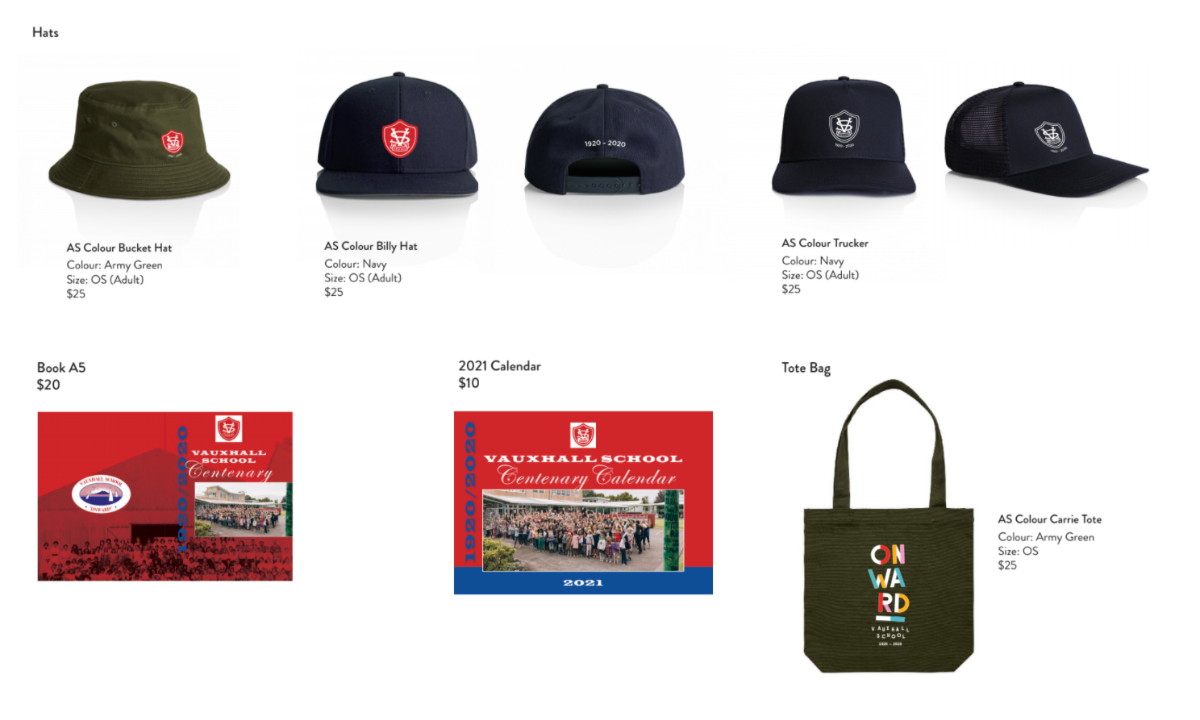 Time capsules and decade displays
We will put all the display material together into the time capsule box kindly made by our current caretaker, Brian Dobson. It will be sealed up for another 25 years and more new memories and reconnections made in 2045.
Thanks again to everyone who came along, and a big thanks to all the volunteers that helped organise the Centenary. It was a great way to round out what has been a challenging year!
Keep well and stay safe, friends of Vauxhall School.
Kind regards
Vauxhall Centenary Team 2020